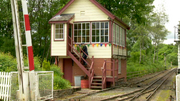 This is a signal box that Mr. Edwards operates on the North Western Railway. Mr. Perkins often comes to take care of the place while the signalman is away, and would either tell the viewers stories or write postcards.
Trivia
The signal box is actually in Alston on the South Tynedale Railway, which is also where the Mr. Perkins' Railway segments were recorded. It's the same one that appears in said segments, but the sign "Alston" is removed so it's disguised to be on Sodor.
"Welcome to the Steamworks, my friend!"

This article is a stub. You can help by expanding it.
Ad blocker interference detected!
Wikia is a free-to-use site that makes money from advertising. We have a modified experience for viewers using ad blockers

Wikia is not accessible if you've made further modifications. Remove the custom ad blocker rule(s) and the page will load as expected.