"And here to get the party started, is Mr. Bubbles and his amazing bubble machine!"
— Sir Topham Hatt, Bubbling Boilers
Mr. Bubbles' Bubble Machine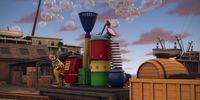 Mr. Bubbles owns a bubble-blowing machine. It is brightly coloured and can also play calliope music.
Stephen took the machine on a conflat when Mr. Bubbles was having his bubble party at Brendam.
It appeared in Thomas & Friends in 4-D: Bubbling Boilers and The Great Race, during I'm Full of Surprises.
Trivia
Gallery
Ad blocker interference detected!
Wikia is a free-to-use site that makes money from advertising. We have a modified experience for viewers using ad blockers

Wikia is not accessible if you've made further modifications. Remove the custom ad blocker rule(s) and the page will load as expected.