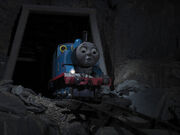 Thomas ran through Morgan's Mine briefly, while looking for a runaway truck, before running down the mine tracks and falling into a flooded shaft in The Great Discovery. It is situated north of Great Waterton.
In the book adaption of the special, Thomas simply fell off the tracks, and Stanley rescued him.
It is located beneath Culdee Fell Hill.
Trivia
The mine was never named in the special, though various merchandise and the book adaption did.
Merchandise
Ad blocker interference detected!
Wikia is a free-to-use site that makes money from advertising. We have a modified experience for viewers using ad blockers

Wikia is not accessible if you've made further modifications. Remove the custom ad blocker rule(s) and the page will load as expected.