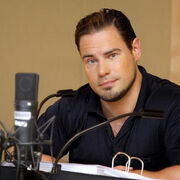 Montgomery "Monty" Arnold (born on 26th June 1967 in Mönchengladbach) is a German actor, voice actor and comedian who provided a voice for the German audio books of Thomas and Friends.
Voices
Trivia
He, Sascha Draeger, Kristina von Weltzien, Tim Whitnall and John Schwab have worked on "Teletubbies".
He, Rainer Schmitt, Burkhard Schmeer, Joey Cordevin, Merete Brettschneider, Till Huster, Oliver Böttcher, Kai-Henrik Möller, Martin May, Lennardt Krüger, Anne Moll, Dagmar Dreke, Robert Missler, Jürgen Holdorf, Eckart Dux had roles in "Sherlock Yack - Zoo Detectivé".
He, Konstantin Graudus, Jesse Grimm, Sascha Draeger, Tobias Diakow, Joshy Peters, Johannes Semm, Simona Pahl, Robin Brosch, Patrick Bach, Marion von Stengel, Robert Missler, Volker Hanisch, Oliver Böttcher, Holger Mahlich, Achim Schülke, Peter Weis, Tobias Schmidt, Tim Kreuer, Nadine Schreier, Kristina von Weltzien, Fabian Harloff, Daniel Welbat and Robert Kotulla voiced for "Bob's Burgers".
External link
Ad blocker interference detected!
Wikia is a free-to-use site that makes money from advertising. We have a modified experience for viewers using ad blockers

Wikia is not accessible if you've made further modifications. Remove the custom ad blocker rule(s) and the page will load as expected.