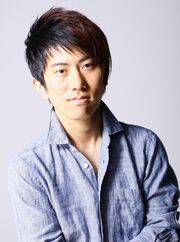 Mitsuhiro Sakamaki (酒巻 光宏, born on June 8th, 1983 in Kumamoto Prefecture) is a Japanese voice actor who provides voices for the Japanese version of Thomas & Friends.
He is well known for providing voices for various animes such as "Bamboo Blade", "Cardfight! Vanguard" and "Halo Legends", but is best known for voicing Magobei from "Sengoku Basara".
Voices
Songs
Gallery
External link
"Welcome to the Steamworks, my friend!"

This article is a stub. You can help by expanding it.
Ad blocker interference detected!
Wikia is a free-to-use site that makes money from advertising. We have a modified experience for viewers using ad blockers

Wikia is not accessible if you've made further modifications. Remove the custom ad blocker rule(s) and the page will load as expected.