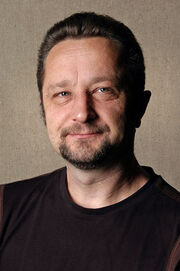 Mieczysław Morański (born in Warsaw on 21 January 1960) is a Polish voice actor who provides voices for the Polish narration of Thomas and Friends.
He is most famous for voicing Barney Rubble from "The Flintstones", Iroh from "Avatar: The Last Airbender",  Starscream from "Transformers Energon" and "Cybertron", the title character of "Freakazoid!", Pyro and Morph from "X-Men: The Animated Series", Jon Arbuckle from "Garfield and Friends", the title character of "Heathcliff", Dr. Finklestein from "The Nightmare Before Christmas" and K9 from the Doctor Who spinoff of the same name.
Voices
Trivia
Ad blocker interference detected!
Wikia is a free-to-use site that makes money from advertising. We have a modified experience for viewers using ad blockers

Wikia is not accessible if you've made further modifications. Remove the custom ad blocker rule(s) and the page will load as expected.