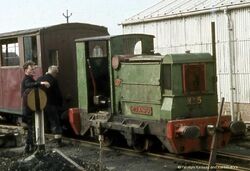 Midlander
Number: 5
Primary Function: Maintenance work
Built Date: 1940
Builder: Ruston and Hornsby
Gauge: 2ft 3in
Wheel diameter: 18"
Wheelbase: 3' 4.5"
Engine: 4VRH
Transmission: 3-speed constant mesh gears with multiple clutches, chain drive
Power: 53 bhp at 1100 rpm
Weight: 7 tons
Midlander is Rusty's Talyllyn Railway counterpart, and was purchased from Jee's Quarry in 1957. She was rebuilt during her time on the Talyllyn, re-entering service in 1980. Like her Sudrian twin, Midlander is used for maintenance work along the line.
Livery
Midlander is painted a forest green livery with red bufferbeams and a blue nameplate.
Gallery
Ad blocker interference detected!
Wikia is a free-to-use site that makes money from advertising. We have a modified experience for viewers using ad blockers

Wikia is not accessible if you've made further modifications. Remove the custom ad blocker rule(s) and the page will load as expected.