Mid Sodor Railway Coaches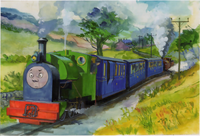 The Mid Sodor Railway owned at least twenty-six coaches before the railway closed down. Some of these coaches ran on bogies and were used as an express train. According to The Island of Sodor: Its People, History and Railways, no less than eight of the bogie coaches have been rescued and restored at Crovan's Gate. They are now in regular service on the Skarloey Railway, one of which is used as a saloon for V.I.P.'s.
They are probably based on the Ffestiniog and Welsh Highland Railway's joint passenger carriages 10, 16 and 23.
The "Picnic"
The "Picnic"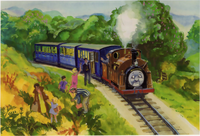 The Picnic was a train for holidaymakers who visited the Mid Sodor Railway. Normally taken by Duke, the train ran between Easter and Michaelmas. The train left Arlesburgh at ten o'clock, stopping at all of the stations on the line and many beauty spots along the way, until reaching Peel Godred. The return run left Peel Godred at half past three and arrived back at Arlesburgh by ten past five in order to give passengers enough time for high-tea at half past five.
Gallery