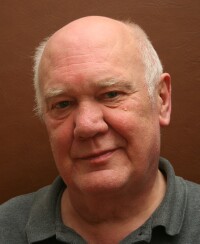 Michael Weckler (born in 1942, died in 2008) was a German voice actor who provided voices for the German audio books of Thomas and Friends.
He was best known for voicing Farmer Pickles from "Bob the Builder" and various characters from "Batman: The Animated Series", "King of Queens", "Pretender" and "Miami Vice".
Voices
Trivia
He, Achim Schülke, Tobias Diakow, Achim Buch, Benjamin Morik, Martin May, Henning Nöhren, Marek Erhardt, Judy Winter, Matthias Klimsa, Michael Griem, Rainer Schmitt, Holger Mahlich, Werner Cartano, Sky du Mont, Klaus Sonnenschein, Volker Bogdan, Douglas Welbat, Jörg Gillner, Robin Brosch, Manfred Steffen, Christian Brückner, Lutz Herkenrath, Erik Schäffler, Knud Riepen, Burkhard Schmeer, Christian Rudolf, Frank Schröder, Oliver Warsitz, Peter Weis, Marie-Luise Schramm, Wilfried Herbst, Fabian Harloff, Oliver Böttcher, Robert Kotulla, Helmut Krauss, Christian Stark, Lutz Harder, Anne Moll, Henry König, Marion von Stengel and Renate Pichler all starred in "Tatort".
He, Achim Schülke, Michael Bideller, Konstantin Graudus, Eckart Dux, Klaus Dittmann, Eberhard Haar, Renate Pichler, Sascha Draeger, Helgo Liebig, Erik Schäffler, Lutz Harder, Holger Potzern, Gerhart Hinze, Jörg Gillner, Ben Hecker, Holger Mahlich, Douglas Welbat, Angela Quast, Christian Stark, Andreas von der Meden, Jürgen Holdorf and Katja Brügger had roles in the animated "Batman" series.
He, Marc Seal, Laura Beaumont, Paul Larson, Helen Farrall, Lee Pressman, Simon Nicholson, Sharon Miller, Sam Barlow, Ross Hastings, Polly Churchill, James Mason, Rob Rackstraw, Rupert Degas, David Menkin, Lucy Montgomery, Gadi Levy, Dan Shatzberg, Holger Potzern, Simona Pahl, Steven Elford, Achim Schülke, Tobias Diakow, Jens Wendland, Marjolein Algera, Ernesto Lezama, Øyvind Borgemoen Lyse, Fabian Harloff, Dave Ingham, José Gilberto Vilchis, Nigel Chilvers, Lenora Hume, Miranda Larson, Stan Limburg, Lutz Harder, Francisco Colmenero, Steven Kynman, Knud Riepen, Robert Kotulla, Ricardo Silva, Louise Kramskoy, Erik Schäffler, Douglas Welbat, Carlos Enrique Bonilla, Katja Brügger, Christian Rudolf, Eberhard Haar, Jürgen Holdorf, Holger Mahlich, Robert Missler and Ian James Corlett have all worked on "Bob the Builder".
Ad blocker interference detected!
Wikia is a free-to-use site that makes money from advertising. We have a modified experience for viewers using ad blockers

Wikia is not accessible if you've made further modifications. Remove the custom ad blocker rule(s) and the page will load as expected.