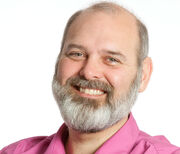 Michael Carrington (born Michael Andrew Chuprin-Plicha in Campbelltown, New South Wales, Australia on 5 May 1961) joined HiT Entertainment around February 2013 and was the "executive in charge of production" on Thomas & Friends, taking over from Karen Barnes starting with the eighteenth season and ended with The Adventure Begins. Marion Edwards, who was the executive producer at that time, had to report to him. He worked as a co-executive producer on Tale of the Brave.
Michael joined HiT Entertainment after leaving Turner Entertainment where he was the head of kids content. Michael has also worked as a controller for CBeebies. When appointed at HiT, he said he had greatly admired their work. After working at HiT for fourteen months, Michael left the company to work for The Foundation as the Chief Executive Producer. He was replaced at HiT by Christopher Keenan in July 2014.
He also worked for Cartoon Network, working on the series, "Scooby-Doo: Mystery Incorporated".
He was CEO of Zodick Kids Studios. In July 2015, he was assigned to work with Britt Allcroft to bring The Magical Adventures of Mumfie to new audiences around the world.
He is currently the Head of Childrens and Education for the Australian Broadcasting Corporation (ABC).
Trivia
He, Rob Rackstraw, Keith Wickham, Susan Roman, Paul Dawson, Dave Peacock, John Gilluley and Dave Ingham all worked on "The Koala Brothers".
He, Jules de Jongh, Rasmus Hardiker, Matt Porter, Jessica Kedward and Kirsty Peart all work on "Floogals".
External Links
Ad blocker interference detected!
Wikia is a free-to-use site that makes money from advertising. We have a modified experience for viewers using ad blockers

Wikia is not accessible if you've made further modifications. Remove the custom ad blocker rule(s) and the page will load as expected.