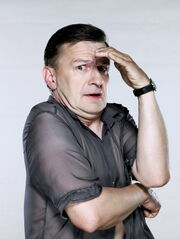 Milogost Reczek (born 10 February 1961) is a Polish actor who provides voices in the Polish dub of Thomas and Friends.
He is best known for voicing Chef Hachet from the "Total Drama" series, the Cat from "Coraline", Rafael from "Rio", Vitaly from "Madagascar 3: Europe's Most Wanted", Skips from "Regular Show", Clyde from "Wreck-It Ralph", Cobalion from "Pokémon the Movie: Kyurem VS. The Sword of Justice", and Skulker from "Danny Phantom".
Voices
Trivia
Ad blocker interference detected!
Wikia is a free-to-use site that makes money from advertising. We have a modified experience for viewers using ad blockers

Wikia is not accessible if you've made further modifications. Remove the custom ad blocker rule(s) and the page will load as expected.