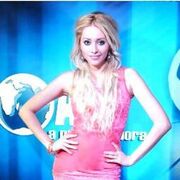 Mercedes Espinosa is a Spanish voice actress who voices characters in the European Spanish dub of Thomas & Friends.
She is known for providing voices in Spanish dubs of various cartoons, animes, and video games including "Rugrats", "Detective Conan", "One Piece", "World of Warcraft", and "God of War".
Voices
Trivia
She, Alejandro Mayén, Einat Glixman, Anna Sztejner, Eberhard Haar, Mayra Arellano, Loretta Santini, José Luis Orozco, Julia Pistor, Achim Schülke, Petri Hanttu, Angela Quast, Katja Brügger, Liliana Barba, Beata Wyrąbkiewicz, Rocío Garcel, Mari Maurstad, Chie Kōjiro, Peter Weis and Greg Tiernan have all worked on "Rugrats".
External Link
"Welcome to the Steamworks, my friend!"

This article is a stub. You can help by expanding it.