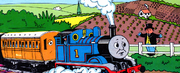 McConnell's Farm is located somewhere along Thomas' Branch Line. Thomas enjoys whistling at the scarecrow in one of the fields. One day, the scarecrow is missing and in a nearby field, Thomas spots the Fat Controller. It turns out to be just a scarecrow dressed in the Fat Controller's old clothes.
The farm only appeared in the 1989 magazine story, Thomas and the Scarecrow.
Ad blocker interference detected!
Wikia is a free-to-use site that makes money from advertising. We have a modified experience for viewers using ad blockers

Wikia is not accessible if you've made further modifications. Remove the custom ad blocker rule(s) and the page will load as expected.