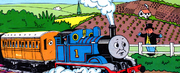 McConnell's Farm is located somewhere along Thomas' Branch Line. Thomas enjoys whistling at the scarecrow in one of the fields. One day, the scarecrow is missing and in a nearby field, Thomas spots the Fat Controller. It turns out to be just a scarecrow dressed in the Fat Controller's old clothes.
The farm only appeared in the 1989 magazine story, Thomas and the Scarecrow.
"Welcome to the Steamworks, my friend!"

This article is a stub. You can help by expanding it.