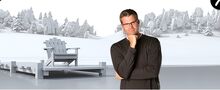 Matthew "Matt" Ahrens (born on May 12, 1973) was an editor and director at Arc Productions. He worked on Tale of the Brave and Sodor's Legend of the Lost Treasure.
He joined Arc Productions in 2005 as an animation editor and became a director in 2015.
His children, Logan, Spencer and Aislyn appeared in 70 Years of Friendship.
Trivia
He, Kallan Kagan and Alan Kennedy all worked on "Barbie and Her Sisters in a Pony Tale". There are also several other voice actors that appeared in quite a few other Barbie films:
External links