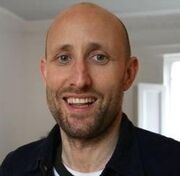 Matthew "Matt" Wilkinson (born in London, England, UK) is a British actor, voice actor, writer, playwright and film director who provides voices for the UK and US versions of Thomas & Friends.
Other animation voice-overs include "The Adventures of Bottle Top Bill and his Best Friend Corky", "Watership Down", and "64 Zoo Lane". He has also appeared on film in "Shackleton" and "V for Vendetta".
Voices
UK
UK/US
Songs
Filmography
Film

The Gift (1998)
The Tichborne Claimant (1998)
The Mystery of Men (1999)
The Jolly Boys' Last Stand (2000)
The Finder (2001)
Lava (2001)
Shackleton (2002)
Ali G Indahouse (2002)
About a Boy (2002)
V for Vendetta (2005)
Acts of Godfrey (2012)
The Unbeatables (2013)

Television

Soldier Soldier (1995)
Wildside (1998)
Watership Down (1999)
64 Zoo Lane (2000)
Harbour Lights (2000)
The Missing Chink (2004)
The Bill (2004)
Empire Square (2005)
Trust Me I'm a Genie (2011)
Thomas & Friends (2009-present)
Trivia
External link
Ad blocker interference detected!
Wikia is a free-to-use site that makes money from advertising. We have a modified experience for viewers using ad blockers

Wikia is not accessible if you've made further modifications. Remove the custom ad blocker rule(s) and the page will load as expected.