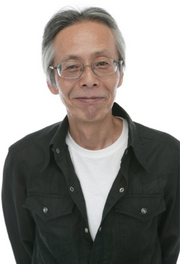 Masaharu Satō (born on July 1st, 1946 in Tokyo) is a Japanese voice actor who provided voices in the Japanese narration of Thomas & Friends.
He is well known for providing voices for various animes and video games, including Gyokaku Kamoi from "Bleach", Gargoylemon from "Digimon Fusion", various characters from the "Dragon Ball" series, John Giant from "One Piece", Monsieur Furansupan from "Soreike! Anpanman", Professor Stevens and Wenner from "Master Keaton", Charles Goodshow from "Pokémon", Pagos from "Dr. Slump & Arale-chan", Death from the "Castlevania" series, and Mash and Zuo Ci from the "Dynasty Warriors" series.
Voices
Trivia
Ad blocker interference detected!
Wikia is a free-to-use site that makes money from advertising. We have a modified experience for viewers using ad blockers

Wikia is not accessible if you've made further modifications. Remove the custom ad blocker rule(s) and the page will load as expected.