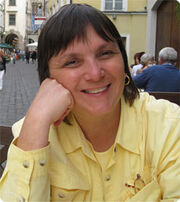 Mary Ann Dudko, Ph.D is an internationally recognized expert in developing age appropriate content for children's media, including television, books and product. She was the Vice President of Content Development at HiT Entertainment from 1991 until 2007.
She worked on Thomas & Friends as educational consultant for the eleventh and twelfth seasons and The Great Discovery.
She currently has her own consulting firm, MAD Duck Consulting.
"Welcome to the Steamworks, my friend!"

This article is a stub. You can help by expanding it.