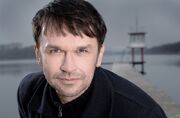 Martin May (born April 21st, 1961) is a German actor, voice actor, and screenwriter.
He is well known for appearing in "Tatort", "A Case for Two", "Das Boot", "Großstadtrevier", "Büro, Büro", and "Here Comes Kalle". He is also known for voicing Kakashi from "Naruto", Death from "Soul Eater", Yanni Yogi from "Phoenix Wright: Ace Attorney", Spyro from "Skylanders", and Shun Aurora from "Heat Guy J".
Voices
Songs
Trivia
External link
Ad blocker interference detected!
Wikia is a free-to-use site that makes money from advertising. We have a modified experience for viewers using ad blockers

Wikia is not accessible if you've made further modifications. Remove the custom ad blocker rule(s) and the page will load as expected.