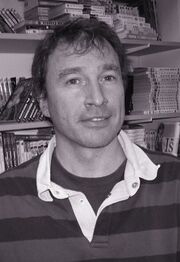 Martial Le Minoux (born 1962) is a French voice actor who voices characters in the French and Canadian narration of Thomas and Friends.
He is known for voicing Crunch Bandicoot from the "Crash Bandicoot" game series, Pollux and Ambroise from "The Magic Roundabout", Roy Mustang from "Fullmetal Alchemist", Shojo and Buggy from "One Piece", Edward Nigma/Riddler in both "Batman: Arkham Asylum" and "Batman: Arkham City", Whisper in "Yo-kai Watch", the Medic from "Team Fortress 2", and Dale Gribble from "King of the Hill".
Voices
Trivia
"Welcome to the Steamworks, my friend!"

This article is a stub. You can help by expanding it.