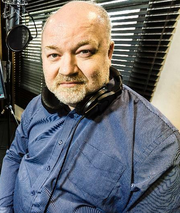 Markus Bäckman (born in 1966) is a Finnish singer and voice actor who provides voices for the Finnish dub of Thomas the Tank Engine & Friends.
Other Finnish dubbing credits from him include: Kent Powers in "Quack Pack", Captain Gantu in "Lilo & Stitch", Discort in "My Little Pony: Friendship Is Magic", "Pokémon", Plankton in "Spongebob Squarepants", The Groke in "Moomins (2017 version)", Bossman in"The Powerpuff Girls" and many more.
Voices
Trivia
Both He and Arto Nieminen have provided voices in the Finnish dub of "The Powerpuff Girls".
Ad blocker interference detected!
Wikia is a free-to-use site that makes money from advertising. We have a modified experience for viewers using ad blockers

Wikia is not accessible if you've made further modifications. Remove the custom ad blocker rule(s) and the page will load as expected.