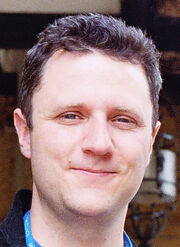 Mark Huckerby was an episode writer for Thomas and Friends. He works with Nick Ostler. Together, they have also written for "Peter Rabbit", "The Octonauts" and "Tree Fu Tom". They are also working on the revivals of "Thunderbird are Go!" and "Dangermouse".
Episodes
The episodes were co-written by Nick Ostler.
Trivia
External Link
Gallery
Ad blocker interference detected!
Wikia is a free-to-use site that makes money from advertising. We have a modified experience for viewers using ad blockers

Wikia is not accessible if you've made further modifications. Remove the custom ad blocker rule(s) and the page will load as expected.