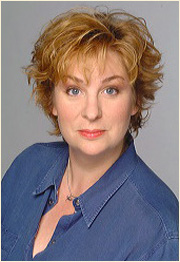 Marjolein Caecilia Algera (born Leiden, November 25, 1965) is a Dutch actress and voice actress who provides voices for the Dutch narration of Thomas & Friends.
She is best known for voicing Irwin from "The Grim Adventures of Billy and Mandy", Marlene from "The Penguins of Madagascar", Bart Simpson from "The Simpsons Movie", various characters from "Bob the Builder", Rosita from "Sesame Street", and Laa-Laa from "Teletubbies".
Voices
It is possible that she also voices Rosie.
Trivia