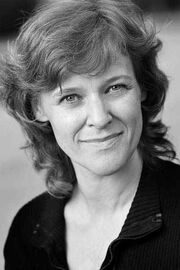 Marit Synnøve Berg (born on July 10th, 1964) is a Norwegian actress who provided voices for female characters in the Norwegian narration of Thomas & Friends. She can speak fluent French, German, and English.
She is best known for playing Marianne Halvorsen in the Norwegian soap opera "Hotel Cæsar", Captain Amelia from "Sjørøverplaneten", and Beate from the film "Nokas". She also voices in "Arthur", "Ponyo",  and "Scaredy Squirrel".
She stepped down as a voice actor for the show after the seventeenth season.
Voices
External links