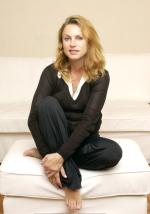 Marion Freifrau von Stengel (born March 26th, 1962 as Hilgers)) is a German voice actress who provides voices for the German dub of Thomas & Friends.
She has provided the German voice of Lara Croft from "Tomb Raider", April O' Neil from the 1987 "Teenage Mutant Ninja Turtles", Tsunami from "Naruto", Pamela Isley/Poison Ivy from "Batman: The Animated Series", Blair and Patricia "Patty" Thompson from "Soul Eater", and Hevlaska from D.Gray-man". In the 1990s she worked as a television announcer.
Voices
Trivia
She, Hiroko Emori, Rainer Schmitt, Daiki Nakamura, Hideyuki Umezu, Dariusz Odija, Håkan Mohede, Herman López, Achim Schülke, Reinder van der Naalt, Luis Alfonso Mendoza, Toshiharu Sakurai, Jorge Santos, Masayuki Omoro, Simcha Barbiro, Kiyoyuki Yanada, Bin Shimada, Talya Barkay ("again"), Hidenari Ugaki, Gérard Boucaron, Kenji Utsumi, Naoki Tatsuta, Kiyonobu Suzuki and Oliver Rohrbeck all worked on the 1987 "Teenage Mutant Ninja Turtles". There have also been several other people that have worked on other parts of the franchise:

Alan Prieto, Yehonatan Magon, Javier Olguín, José Gilberto Vilchis, Ricardo Bautista, Tim Kreuer, Jorge Badillo, Mia Kadosh, Idzi Dutkiewicz, Józef Pawłowski, Gadi Levy, Tzvika Shwartzberg, Shōto Kashii, Hiroshi Tsuchida, Talya Barkay and Sukekiyo Kameyama ("the 2012 version").
Hidenari Ugaki (again), Yohei Nishina, Jan-David Rönfeldt, Stig Krogstad, Samuel Harjanne, Tokuyoshi Kawashima, Tomohiro Nishimura, Kiyonobu Suzuki, Kunihiro Kawamoto, Denis Bespalyy, Ryūji Nakagi, Saar Badishi, Daisuke Gōri, Takafumi Kawakami, Tzvika Shwartzberg, Shōto Kashii, Santiago Ziesmer, Kenji Utsumi and Dariusz Odija ("again") ("the 2003 version").
Helmut Krauss, Yehonatan Magon ("again"), Tokuyoshi Kawashima, Piotr Bajtlik, César Árias, Karina Altamirano, Pasi Ruohonen, Caspar Phillipson, ("again") Alan Prieto, ("again") Oliver Rohrbeck, Víctor Ugarte, Albert Cohen, Mireya Mendoza and Yigal Mizrachi ("the films").
"Welcome to the Steamworks, my friend!"

This article is a stub. You can help by expanding it.
Ad blocker interference detected!
Wikia is a free-to-use site that makes money from advertising. We have a modified experience for viewers using ad blockers

Wikia is not accessible if you've made further modifications. Remove the custom ad blocker rule(s) and the page will load as expected.