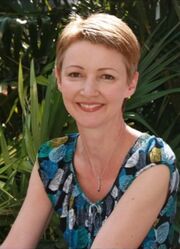 Marion Edwards was the Vice President of Production for HiT Entertainment from September 2008 until August 2014. She was also an executive producer for Thomas and Friends for HiT Entertainment.
Before her contribution to HiT, she was nominated for BATFA as the producer of Pongwiffy and a 25 minute animated adaptation of Harry Horse's "The Last Polar Bears". Christopher Skala worked alongside Edwards until Season 15, and Karen Barnes has worked alongside Edwards as of Blue Mountain Mystery. After Michael Carrington was hired as the "executive in charge of production" for the show in Season 18, she had to report to him.
In 2011, she was also nominated for the Beyond the Call of Duty Award for executive producer in children's entertainment.
She left HiT Entertainment in August 2014 after working for the company for six years. Edward Catchpole took over her role as executive producer until he left HiT Entertainment in August 2015 and was succeeded by Christopher Keenan. She worked for Dreamworks Animation until December 2016 and she returned to Mattel Creations in December 2017 as an executive in charge and executive producer.
Trivia
External Link
"Welcome to the Steamworks, my friend!"

This article is a stub. You can help by expanding it.
Ad blocker interference detected!
Wikia is a free-to-use site that makes money from advertising. We have a modified experience for viewers using ad blockers

Wikia is not accessible if you've made further modifications. Remove the custom ad blocker rule(s) and the page will load as expected.