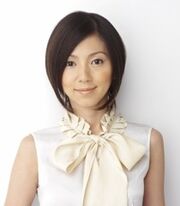 Marina Watanabe (渡辺満里奈, born in Ota, Tokyo, Japan on November 18, 1970) is a Japanese singer, author, and actress who provided voices for Thomas and the Magic Railroad.
She is well known for appearing in various Japanese television dramas, but she was best known for her singing. She is currently famous for writing essays and books about concerning her hobbies of fashion, travel, and personal health.
Voices
Lady (Thomas and the Magic Railroad only)
Gallery
External links
Ad blocker interference detected!
Wikia is a free-to-use site that makes money from advertising. We have a modified experience for viewers using ad blockers

Wikia is not accessible if you've made further modifications. Remove the custom ad blocker rule(s) and the page will load as expected.