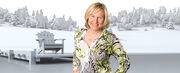 Marianne Culbert was the Executive Vice-President of Production at Arc Productions from late 2015 to August 2016 when Arc went bankrupt. She also served as an executive producer for The Great Race, alongside Kallan Kagan.
Other credits include: "Little Bear", "The Little Bear Movie", "Max and Ruby", "Beyblade", "Toot and Puddle" and "Tarzan and Jane".
Trivia
Ad blocker interference detected!
Wikia is a free-to-use site that makes money from advertising. We have a modified experience for viewers using ad blockers

Wikia is not accessible if you've made further modifications. Remove the custom ad blocker rule(s) and the page will load as expected.