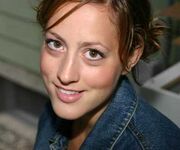 Maren Ord (born 28 February 1981 in Edmonton, Alberta, Canada) is a Canadian singer and songwriter of rock and pop music who sang a song for Thomas and the Magic Railroad. Some of her well known albums are "Waiting", "Not Today", and "Pretty Things".
She currently lives with her husband Joe and three children.
Songs
Shining Time (performed; soundtrack and end credits versions)
"Welcome to the Steamworks, my friend!"

This article is a stub. You can help by expanding it.
Ad blocker interference detected!
Wikia is a free-to-use site that makes money from advertising. We have a modified experience for viewers using ad blockers

Wikia is not accessible if you've made further modifications. Remove the custom ad blocker rule(s) and the page will load as expected.