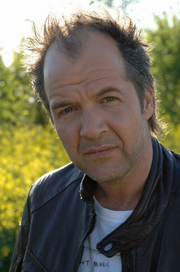 Marek Erhardt (born on May 9th, 1969) is a German actor who provided a voice from The Great Race.
He is most famous for his roles in German television shows, such as "The Country Doctor", "Großstadtrevier", "Das Traumschiff", and "Katie Fforde". He is also a recurrent dubbing voice of actors such as Benicio Del Toro, James Denton and Johnny Depp as well as performing voiceovers for commercials.
Voices
External links
"Welcome to the Steamworks, my friend!"

This article is a stub. You can help by expanding it.
Ad blocker interference detected!
Wikia is a free-to-use site that makes money from advertising. We have a modified experience for viewers using ad blockers

Wikia is not accessible if you've made further modifications. Remove the custom ad blocker rule(s) and the page will load as expected.