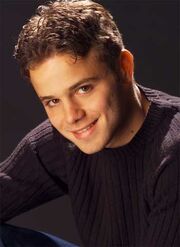 Marco Vivio (born in Lazio, Rome on March 31st, 1978) is an Italian voice actor who provides voices for the Italian version of Thomas and Friends.
He has been acting in films since he was young. One of his most famous roles is Peter Parker/Spider-Man from both "The Spectacular Spider-Man" and the Sam Rami films. He also voices Anakin Skywalker from "Star Wars: The Clone Wars", Rodney from the "Total Drama" series, Leo Mōri from "Gakuen Alice", Mitsuru Sasayama from "Psycho-Pass", Foop from "The Fairly OddParents", and Prince Justin from "Howl's Moving Castle".
Voices
Trivia
Both he and Shinichirō Miki voiced Seiji Kisaragi from "Paradise Kiss" in their respective languages.
Official Website