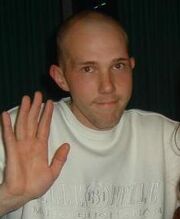 Marcel Collé (born March 31st, 1976 in Berlin) is a German voice actor.
He is best known for being the regular dubbing voice of Ashton Kutcher. He is also known for voicing King Bob from Disney's "Recess", Andy Larkin from "What's With Andy?", Superman from "Smallville", and Zach Van Gerbig from "Gilmore Girls".
He has also worked as a voice director in various films and shows such as "MegaMan NT Warrior", "American Dad!", "Star Wars: The Clone Wars", and "Balls of Fury".
Voices
Trivia
"Welcome to the Steamworks, my friend!"

This article is a stub. You can help by expanding it.
Ad blocker interference detected!
Wikia is a free-to-use site that makes money from advertising. We have a modified experience for viewers using ad blockers

Wikia is not accessible if you've made further modifications. Remove the custom ad blocker rule(s) and the page will load as expected.