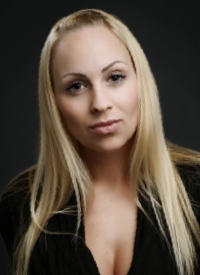 Manuela Bäcker is a German actress, voice actress and singer who provided a voice in the German dub of The Great Race.
She is known for voicing Janet Van Dyne-Pym/Wasp from "Ultimate Avengers: The Movie", formely Karin from "Naruto Shippuden" and Maka Albarn from "Soul Eater".
Voices
Songs
Trivia
She, Henning Nöhren, Lennardt Krüger, Christian Stark, Tobias Schmidt, Christian Rudolf, Fabian Harloff, Robert Kotulla, Konstantin Graudus, Merete Brettschneider, Tim Kreuer, Oliver Böttcher, Robert Missler, Patrick Bach, Jürgen Holdorf, Jan-David Rönfeldt, Joshy Peters, Sascha Draeger, Michael Bideller, Joey Cordevin, Christos Topoulos, Volker Hanisch, Nils Rieke, Peter Weis, Rainer Schmitt, Jens Wendland, Martin May, Bernd Stephan, Robin Brosch, Eberhard Haar, Angela Quast, Kai-Henrik Möller, Achim Schülke, Sonja Stein, Marion von Stengel, Jesse Grimm, Henry König, Lutz Herkenrath, Dagmar Dreke, Knud Riepen, Gerhart Hinze, Erik Schäffler, Jennifer Böttcher, Joachim Kretzer and Achim Buch had roles in "Naruto".
She, Fabian Harloff, Marion von Stengel, Robert Kotulla, Rainer Schmitt, Martin May, Nadine Schreier, Joshy Peters, Michael Bideller, Sascha Dreager, Tobias Schmidt, Jesse Grimm, Jürgen Holdorf and Volker Hanisch worked on "Soul Eater".
External links