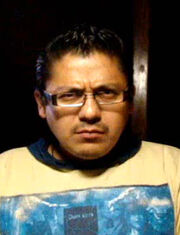 Manuel Campuzano Márquez (born on March 20th, 1975) is a Mexican voice actor who provides voices in the Latin American narration of Thomas & Friends.
He is best known for voicing Light Yagami in "Death Note", Choji Akimichi in "Naruto", Takumi Fujiwara from "Initial D", Heero Yuy from "Mobile Suit Gundam Wing", and Kisuke Urahara from "Bleach".
Voices
Trivia
Ad blocker interference detected!
Wikia is a free-to-use site that makes money from advertising. We have a modified experience for viewers using ad blockers

Wikia is not accessible if you've made further modifications. Remove the custom ad blocker rule(s) and the page will load as expected.