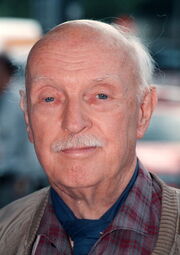 Manfred Ludolf Steffen (June 28th, 1916 - 22 January 2009) was an actor in many German television programs and was the narrator of Thomas & Friends from the first - fifth seasons between 1996 and 2000, the CD release of Calling All Engines! and the first six audiobooks of Thomas & Friends in Germany.
He was best known for appearing in various German television shows and films, such as "Der Nachlaß", "Hoopers letzte Jagd", "Miss Milly Mill", "Heimatgeschichten", and "Frau Luna". He is also known for voicing Henry Travers from "It's a Wonderful Life", Peter Cushing from "From Beyond the Grave", Noah Beery Jr. from "The Rockford Files", Mr. Hooper from "Sesame Street", and Gustav from "Felidae".
He was born on June 28th, 1916 in Hamburg, Germany and died on 22 January 2009 in Halstenbek, Schleswig-Holstein, Germany at the age of 92.
He was succeeded by Sky du Mont from the eighth season onwards.
Trivia
He, Holger Mahlich, Thomas Fritsch, Dirk Bach, Patrick Bach, Robin Brosch, Sascha Draeger, Konstantin Graudus, Eberhard Haar, Fabian Harloff, Lutz Herkenrath, Till Huster, Henry König, Helmut Krauss, Martin May, Tetje Mierendorf, Robert Missler, Renate Pichler, Christian Rudolf, Tobias Schmidt, Rainer Schmitt, Achim Schülke, Christian Stark, Bernd Stephan, Sky du Mont, Marion von Stengel, Peter Weis and Santiago Ziesmer all had roles in "The Three Investigators".
He, Albert Cohen, Eduardo Garza, Marjolein Algera, Fabian Harloff, Robert Missler, Stefan Knothe, Nadine Schreier, Janusz Zadura, Denise Cassar, Mark Skillicorn, Petri Hanttu, Angela Quast, Dagmar Dreke, Dov Reiser, Louise Raeder, Fred Meijer, Ricardo Mendoza, Beata Wyrąbkiewicz, Gadi Levy and Alec Baldwin have all worked on "Sesame Street".
"Welcome to the Steamworks, my friend!"

This article is a stub. You can help by expanding it.
Ad blocker interference detected!
Wikia is a free-to-use site that makes money from advertising. We have a modified experience for viewers using ad blockers

Wikia is not accessible if you've made further modifications. Remove the custom ad blocker rule(s) and the page will load as expected.