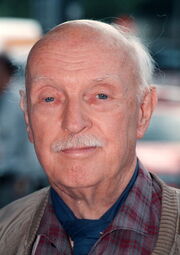 Manfred Ludolf Steffen (28 June 1916 - 22 January 2009) was an actor in many German television programs and was the narrator of Thomas & Friends from the first - fifth seasons between 1996 and 2000, the CD release of Calling All Engines! and the first six audiobooks of Thomas & Friends in Germany.
He was best known for appearing in various German television shows and films, such as "Der Nachlaß", "Hoopers letzte Jagd", "Miss Milly Mill", "Heimatgeschichten", and "Frau Luna". He is also known for voicing Henry Travers from "It's a Wonderful Life", Peter Cushing from "From Beyond the Grave", Noah Beery Jr. from "The Rockford Files", Mr. Hooper from "Sesame Street", and Gustav from "Felidae".
He was born on 28 June 1916 in Hamburg, Germany and died on 22 January 2009 in Halstenbek, Schleswig-Holstein, Germany at the age of 92.
He was succeeded by Sky du Mont from the eighth season onwards.
Trivia
He, Holger Mahlich, Thomas Fritsch, Dirk Bach, Patrick Bach, Robin Brosch, Sascha Draeger, Konstantin Graudus, Eberhard Haar, Fabian Harloff, Lutz Herkenrath, Till Huster, Henry König, Helmut Krauss, Martin May, Tetje Mierendorf, Robert Missler, Renate Pichler, Christian Rudolf, Tobias Schmidt, Rainer Schmitt, Achim Schülke, Christian Stark, Bernd Stephan, Sky du Mont, Marion von Stengel, Peter Weis and Santiago Ziesmer all had roles in "The Three Investigators".
He, Albert Cohen, Eduardo Garza, Marjolein Algera, Fabian Harloff, Robert Missler, Stefan Knothe, Nadine Schreier, Janusz Zadura, Denise Cassar, Mark Skillicorn, Petri Hanttu, Angela Quast, Dagmar Dreke, Dov Reiser, Louise Raeder, Fred Meijer, Ricardo Mendoza, Beata Wyrąbkiewicz, Gadi Levy, Alec Baldwin and Alejandro Mayén have all worked on "Sesame Street".
He, Albrecht Ganskopf, Konstantin Graudus, Knud Riepen, Tobias Diakow, Martin May, Achim Buch, Henning Nöhren, Tim Grobe, Benjamin Morik, Judy Winter, Henry König, Charlotte Hedwig, Margret Homeyer, Jürgen Uter, Douglas Welbat, Lutz Herkenrath, Michael Weckler, Rainer Schmitt, Robin Brosch, Achim Schülke, Marek Erhardt, Holger Mahlich, Werner Cartano, Sky du Mont, Klaus Sonnenschein, Volker Bogdan, Jörg Gillner, Christian Brückner, Erik Schäffler, Burkhard Schmeer, Christian Rudolf, Frank Schröder, Oliver Warsitz, Peter Weis, Marie-Luise Schramm, Wilfried Herbst, Fabian Harloff, Oliver Böttcher, Robert Kotulla, Helmut Krauss, Christian Stark, Lutz Harder, Anne Moll, Marion von Stengel, Renate Pichler, Matthias Klimsa and Eckart Dux have all worked on "Tatort".