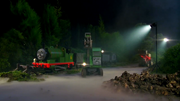 Maithwaite Forest is a forest just south of Maithwaite. The Pack once had a night job mending the road that runs through the forest.
According to Kelly's scary story, the legendary One-eyed Truck haunts the forest looking for his missing headlamp.
At night, the forest becomes rather spooky. Max and Monty were easily scared there one time.
This is also where The Lightning Tree is located.
It only appeared in the Jack and the Sodor Construction Company episodes, Percy's Scary Tale and A Tale for Thomas.
Gallery
Ad blocker interference detected!
Wikia is a free-to-use site that makes money from advertising. We have a modified experience for viewers using ad blockers

Wikia is not accessible if you've made further modifications. Remove the custom ad blocker rule(s) and the page will load as expected.