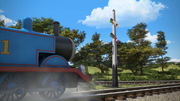 Maithwaite is a station on Thomas' branch line. It is located between Elsbridge and Hackenbeck.
The exact location of the station was quite a mystery until 2014, when a map from a Japanese King of the Railway booklet cleared it up. A map from a Blue Mountain Mystery bonus feature showed it situated in the east of Arlesburgh, but the map probably mistook it for Marthwaite.
It made its first appearance in the fifth season and has appeared in every season since, except the seventeenth. 
Maithwaite Forest, The Lightning Tree, quarry mine and a showground are located near Maithwaite.
Trivia
Maithwaite used to be on display at Nitrogen Studios.
Maithwaite was once the winner of the Best Dressed Station award.
Tidmouth Bay also reused Maithwaite's building.
Toby once said that Maithwaite was his favourite station.
Maithwaite has gone through several changes in the television series:

Season 5:

There was only one track going past the platform.

Season 6:
Hero of the Rails:
Season 14:

It returned to its original beige colour.

Season 18:

The sign on the station platform disappeared.
The road leading to the station became dirt.
Merchandise
Gallery
Merchandise Gallery