There have been several Thomas and Friends magazines printed around the world from 1987 onwards. There are many characters and stories exclusive to these magazines. Originally, they were published by Marvel Comics, who are more widely known for their superhero characters. However in 1999, by Issue #305, Marvel quietly discontinued them and Egmont took over in publishing Thomas magazines as they still do today.
Early 1990s magazine stories
During the early 1990s, there were seasonal magazines released during the spring, summer, autumn, and winter. The stories are listed below:
Late 1990s Layout
During the late 1990s, the magazines were given a new layout:
1) 5-page story (may feature character[s] on the front cover)
2) 2-page story (with two illustrations)
3) "Read-and Colour" story
4a) "All About..." (character profile, plus a competition for an ERTL model)
4b) Story from the television series, plus competition for an ERTL model.
5) 3-page story featuring Stephen Hatt and Bridget Hatt as the main characters. These were a spin-off called "The Hatt Family".
6) 5-page story (may feature the character[s] on the front cover)
The Hatt Family
Late 1990s/early 2000s magazine stories
The stories in the magazines often feature characters exclusively found in the magazines. Some examples are:
There are also other stories which did not introduce characters:
Fun to Learn with Thomas the Tank Engine
There was also a magazine series called "Fun to Learn with Thomas the Tank Engine". They had stories, mathematics, picture questions, and poems, as well as pictures from the television series. These magazines were originally published by Redan.
Poems/Mini-Stories
My First Thomas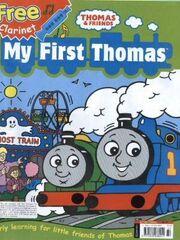 Aside from the fortnightly Thomas and Friends UK magazine, the Play and Learn magazine, and the Express Special magazine, for a short while, My First Thomas magazines were published fortnightly. They contained rhymes and simple illustrations and stories.
Present Layout
Welcome page with map showing a different location on Sodor per issue
All about... (character page)
Activity page (drawing or colouring)
Spotting/Spot the Differences
Story from television stories
2-page Bedtime story
3-page story
Jumble story
Sodor Quiz
Thomas World
Introduced Characters
See Also
Thomas magazines around the world
In Europe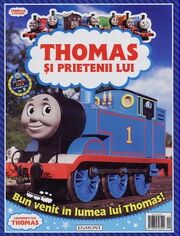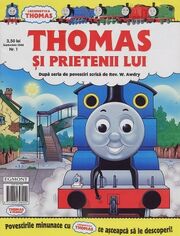 Egmont's Thomas and Friends magazine has been released in other European countries too.
The magazines are not just translated. The local editors choose what stories, posters, and games they want to put in them. The magazines are not released in the same order as in the UK.
The magazines are still available in: Czech Republic, Poland, Germany and other countries. However they were discontinued (along with the books collection) in: Bulgaria, Croatia, Hungary, Romania and maybe other countries too. In Romania the first issue was released in September 2008 and the last in December 2013.