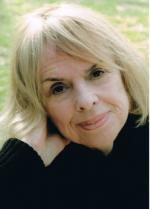 Luise Lunow (born on 13th March 1932 in Nowawes, today Potsdam-Babelsberg), known as Gerda-Luise Thiele until 1987, is a German actress and voice actress, who provided voices for the German Audio Books of Thomas & Friends.
She is best known voicing Granny from "The Looney Tunes Show" and Peter's Grandmother from "Heidi".
Voices
The Teacher (Audio Books only)
Some Children (Audio Book 17)
Trivia
She, Holger Mahlich, Thomas Fritsch, Dirk Bach, Patrick Bach, Robin Brosch, Sascha Draeger, Konstantin Graudus, Eberhard Haar, Fabian Harloff, Lutz Herkenrath, Till Huster, Henry König, Helmut Krauss, Martin May, Tetje Mierendorf, Robert Missler, Sky du Mont, Renate Pichler, Christian Rudolf, Tobias Schmidt, Rainer Schmitt, Achim Schülke, Christian Stark, Bernd Stephan, Manfred Steffen, Marion von Stengel, Peter Weis, Andreas von der Meden, Wolfgang Hartmann, Sabine Hahn, Thorsten Weber, Eckart Dux, Gosta Liptow, Celine Fontanges and Santiago Ziesmer have worked on "The Three Investigators".
He, Agnieszka Kunikowska, Prokhor Chekhovskoy, Guilherme Briggs, Naoki Tatsuta, Grzegorz Kwiecień, Stefan Knothe, Jim Cummings, Alfonso Ramírez, Kari Tamminen, César Soto, Masashi Ebara, Tesshō Genda, Irwin Daayán, Saar Badishi, Przemysław Stippa, Zvika Fohrman, Daisuke Gōri, Hadar Shachaf Ma'ayan, Ernesto Lezama, Luis Alfonso Mendoza, Cezary Kwieciński and Simcha Barbiro have all worked on "Looney Tunes".