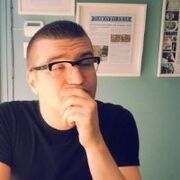 Lucas Wright was the animation lead for six episodes of the nineteenth season and 24 episodes of the twentieth season of Thomas & Friends at Arc Productions. He also was animator for the eighteenth, nineteenth, twentieth and twenty-first seasons.
He worked at Arc Productions from July 2012 until August 2016.
He currently works at Guru Studios.
External Link
"Welcome to the Steamworks, my friend!"

This article is a stub. You can help by expanding it.