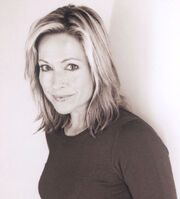 Lori Hallier (born in Victoria, British Columbia, Canada, July 8th, 1959) is a Canadian actress. She is best known for appearing in various television shows and films, such as "Star Trek: Voyager", "Christmas with Holly" "Night of the Twisters", "Flower Shop Mystery: Mum's the Word", the "Friday the 13th" TV series, and "Strange Days at Blake Holsey High".
She played Lily's Mother in Thomas and the Magic Railroad.
Trivia
"Welcome to the Steamworks, my friend!"

This article is a stub. You can help by expanding it.
Ad blocker interference detected!
Wikia is a free-to-use site that makes money from advertising. We have a modified experience for viewers using ad blockers

Wikia is not accessible if you've made further modifications. Remove the custom ad blocker rule(s) and the page will load as expected.