"You see, I'm not small, I'm middle-sized!"
— Percy upon seeing Little Barford, The Cloud Factory!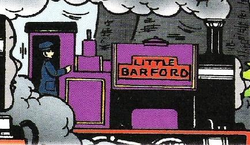 Little Barford
Little Barford is a small saddle tank engine who works on a narrow gauge line at the Power Station.
Bio
Gordon and Percy met Little Barford when an urgent load of coal had to be delivered to the Power Station. However, Percy was still upset with Gordon, because he had teased him earlier that day and called him "small". When the two engines saw Little Barford at the Power Station, Percy reassured Gordon that he in-fact was not "small" but rather "medium-sized". Not much else is known about Little Barford.
Basis
Little Barford has a somewhat striking resemblance to Edward Thomas, Peter Sam's prototype. However, his name derives from an industrial 0-4-0 steam locomotive, who formerly worked at the Little Barford Power Station. It now operates on the Mid Norfolk Railway and still remains in working order.
Livery
Little Barford is painted purple with yellow lining. He has a red nameplate with black lettering on either side of his tanks. His cylinders are also painted white and with red lining.
Appearances
Gallery