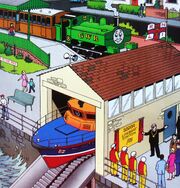 Lifeboat Station 
is big station situated on 
Duck's Branch Line
. 
Duck
 took 
The Mayor of Sodor
 to open the station. The Mayor of Sodor named the station and gave it a shiny nameplate that reveals the station's name on the side of the building.
The Pier is north of the station and Bertie takes the route near the town. It only appeared in the magazine stories, False Alarm and Pirates!
Gallery
Ad blocker interference detected!
Wikia is a free-to-use site that makes money from advertising. We have a modified experience for viewers using ad blockers

Wikia is not accessible if you've made further modifications. Remove the custom ad blocker rule(s) and the page will load as expected.