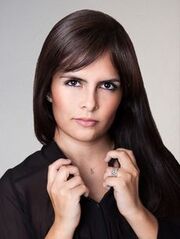 Leyla Rangel (born October 10th, 1985) is a Mexican voice actress who voices for the Mexican dub for Thomas & Friends.
She is most for being the voice of Hermione Granger since the fourth Harry Potter film, Ami in "Hi Hi Puffy AmiYumi", Ahsoka Tano in "Star Wars: The Clone Wars", Kagome Higurashi from "InuYasha", Sasame from "Naruto", Violet Parr from "The Incredibles", Charlotte La Bouff from Disney's "The Princess and the Frog", Idressa from the "Tinker Bell" films, Astrid from the "How to Train Your Dragon" films, and the title character from "Kim Possible". She is also a frequent dubbing voice of celebrities such as Raven-Symoné, Lea Michele, and Emma Watson.
Voices
Trivia
Ad blocker interference detected!
Wikia is a free-to-use site that makes money from advertising. We have a modified experience for viewers using ad blockers

Wikia is not accessible if you've made further modifications. Remove the custom ad blocker rule(s) and the page will load as expected.