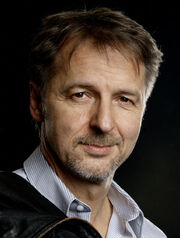 Lennardt Krüger (born November 29th, 1958 as Hardy Krüger) is a German actor and voice actor who provides voices for the German dub of Thomas & Friends.
He is most famous for appearing in German television shows, such as "The Country Doctor", "Verbotene Liebe", "Here Comes Kalle", and "Hallo Robbie!". He also did voice dubbing for animes, such as Iruka Umino from "Naruto" and Jetfire from "Transformers: Cybertron".
Voices
Trivia
Both he and Hideo Ishikawa voiced Jetfire from "Transformers: Cybertron" in their respective languages.
He worked alongside Christian Stark, Henning Nöhren, Christian Rudolf, Tobias Schmidt, Fabian Harloff, Martin May, Robert Kotulla, Konstantin Graudus, Merete Brettschneider, Tim Kreuer, Oliver Böttcher, Robert Missler, Patrick Bach, Jürgen Holdorf, Jan-David Rönfeldt, Joshy Peters, Sascha Draeger, Michael Bideller, Joey Cordevin, Christos Topoulos, Volker Hanisch, Nils Rieke, Peter Weis, Rainer Schmitt, Jens Wendland, and Jesse Grimm on "Naruto".

Both he and Janusz Wituch voiced Iruka Umino in their respective languages.

Both he and Salty's Lighthouse voice actor Paul Dobson voiced Overhaul from "Transformers: Optimus Prime vs. Megatron-The Ultimate Battle" in their respective languages.
External Link
Ad blocker interference detected!
Wikia is a free-to-use site that makes money from advertising. We have a modified experience for viewers using ad blockers

Wikia is not accessible if you've made further modifications. Remove the custom ad blocker rule(s) and the page will load as expected.