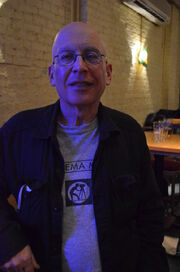 Lee Pressman is an episode writer for Thomas and Friends. He has also written material for other children's television shows such as "Rainbow", "Fireman Sam", "Mike and Angelo", "Angelina Ballerina", "Dennis and Gnasher", and "Little Princess". He was a head writer and script editor for "Shaun the Sheep" and the head writer for "Rastamouse". He also worked as an executive producer for "Rainbow". Lee also created the "T-Bag" franchise, featuring John Hasler as T-Shirt.
Episodes

He also said that he has recently written episodes about Henry, Diesel and Sidney.
He has also written three episodes called Salty All At Sea, Two Wheels Good and Snow Place Like Home. It is currently unknown which season they will be a part of.
Gallery
External Links