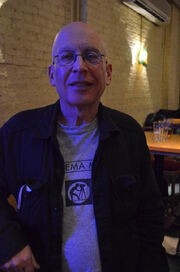 Lee Pressman (born in 1954) is an English scriptwriter and producer. He is an episode writer for Thomas and Friends.
He has also written material for other children's television shows such as "Button Moon," "Rainbow", "Fireman Sam", "Mike and Angelo", "Angelina Ballerina", "Dennis and Gnasher", "Little Princess" and "Bob the Builder". He was a head writer and script editor for "Shaun the Sheep" and the head writer for "Rastamouse". He also worked as an executive producer for "Rainbow". Lee also created the "T-Bag" franchise, featuring John Hasler as T-Shirt. Previously he worked as a primary school teacher for 9 years.
Lee confirmed that he had written a total of nine episodes in 2015, for the twentieth season. Only five were commissioned for the twentieth and three were held back for the twenty-first. He also wrote five additional episodes for the twenty-first season.
Episodes
Trivia
Gallery
External Links
Ad blocker interference detected!
Wikia is a free-to-use site that makes money from advertising. We have a modified experience for viewers using ad blockers

Wikia is not accessible if you've made further modifications. Remove the custom ad blocker rule(s) and the page will load as expected.