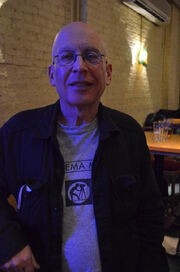 Lee Pressman is an English scriptwriter, author and producer. He was an episode writer for Thomas & Friends. He wrote for the series from 2002, 2011 and then from 2014-2017. He has written an overall total of 25 episodes.
He has also written material for other children's television shows such as "Button Moon," "Rainbow", "Fireman Sam", "Mike and Angelo", "Angelina Ballerina", "Dennis and Gnasher", "Little Princess" and "Bob the Builder". He was a head writer and script editor for "Shaun the Sheep" and the head writer for "Rastamouse". He also worked as an executive producer for the 1994 "Rainbow". Lee also created the "T-Bag" franchise, featuring John Hasler as T-Shirt.
Previously he worked as a primary school teacher for 9 years.
Episodes
Trivia
Gallery
External Links