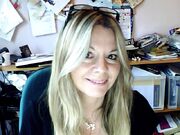 Laura Beaumont (born in 1956 in Steatham, London, England) is an English writer, songwriter, music composer and former actress. She was an episode writer for Thomas and Friends. She frequently collaborates with Paul Larson, and they are both head writers for "Fireman Sam". They also were head writers for "Bob the Builder" with James Mason. Other credits include "Mike the Knight", "Bob the Builder", "Construction Site", "Horrid Henry", "Angelina Ballerina", and many others.
She is the wife of British actor, Bill Oddie and the daughter of actress/singer Sally Barnes and actor Bobby Beaumont.
Episodes
The episodes were all co-written with Paul Larson.
Trivia
External Link