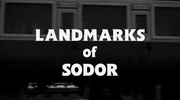 Landmarks of Sodor are a series of segments included on US and UK Thomas & Friends DVDs starting with the nineteenth season.
These segments take the form of an old-fashioned news-reel with a voice-over by Rob Rackstraw and music by Oliver Davis.
Landmarks
"Welcome to the Steamworks, my friend!"

This article is a stub. You can help by expanding it.