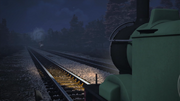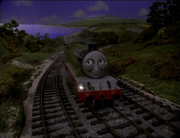 Lamps are devices that engines use at their front to light their path at night or in dark conditions. Tail-lamps are red lights hung on the back of engines and brake vans so they can be seen from behind.
Almost all of the North Western Railway, Skarloey Railway and Arlesdale Railway steam engines are fitted with white headlamps, which are usually placed on either the right lamp-iron or the top of their smokebox. Steam engines from the Mainland, such as Flying Scotsman and Spencer, are fitted with LNER headlamps, while diesel engines are usually fitted with box-style lamps or built-in ones. Most of the engines are fitted with electric lamps, allowing them to turn the lamps on and off at will.
Trivia
In the television series:
"Welcome to the Steamworks, my friend!"

This article is a stub. You can help by expanding it.
Ad blocker interference detected!
Wikia is a free-to-use site that makes money from advertising. We have a modified experience for viewers using ad blockers

Wikia is not accessible if you've made further modifications. Remove the custom ad blocker rule(s) and the page will load as expected.