"She's as precious as gold."
— Burnett Stone describing Lady, Thomas and the Magic Railroad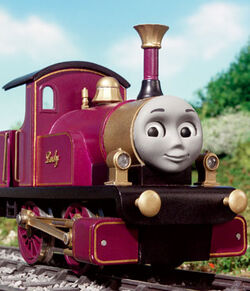 Lady
Lady is a Victorian-style steam engine who runs the Magic Railroad and is owned and guarded by Burnett Stone.
Bio
Lady was chased and wrecked by Diesel 10 long ago and was brought to safety by Burnett Stone. She was brought back to life with the help of Burnett's granddaughter Lily after being stored at Muffle Mountain for years, and helped Thomas defeat Diesel 10.
Later in Calling All Engines!, she and Rusty appeared in a dream to Thomas. Lady told Thomas how to resolve the problems Sodor was facing.
Basis
Lady does not seem to be based on any real locomotive prototype, and appears to be a freelance design, however, she loosely resembles Lively Polly.
Livery
Lady is painted red-purple with gold head lamps on the front footplate, tail lamp, gold buffers, smokebox, funnel top, dome and whistles, side rods, lining and her name on each side in gold. She is also painted a very dark purple on her cab roof, lower funnel section and her footplate.
Appearances
Specials:
Voice Actors
Trivia
Originally, Lady was not going to have a speaking role in Thomas and the Magic Railroad, her only way of communicating was "telepathically" with Thomas when he was on Muffle Mountain and her whistle. She was later given lines to help smooth over cuts made to the film.
Her face is only visible on Sodor.
Lady has a coupling on her back, but not on her front.
Lady was the first female steam engine introduced in the television series and the third female engine overall, the first being Daisy, the second being Mavis and the fourth later being Emily.
One of Lady's models is currently on display in Japan.
Lady's whistle sound was reused for Millie.
One of her concept art images depicts her as a 2-2-2, with several design changes.
Quotes
Burnett Stone: "Well Lady, this is your Shining Time too."
Lady: "With your help!" (Uncut Version) "I hope so!" (Edited Version)
- Burnett and Lady, Thomas and the Magic Railroad.
Thomas: "Lady, you're a Really Helpful Engine!"
Lady: "And helping each other brings to life the magic in all of us!"
- Thomas and Lady, Thomas and the Magic Railroad
"We always finish our jobs when we work together."
- Lady to Thomas, Calling All Engines!
Merchandise
Gallery
Merchandise Gallery
See Also