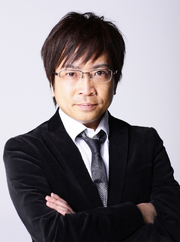 Kunihiro Kawamoto (河本邦弘, born on September 1st, 1975) is a Japanese voice actor who provided voices in the Japanese version of Thomas & Friends.
He is best known for voicing G1 Starscream from "Transformers: Robot Masters", Firefly from "The Batman" and "Batman: The Brave and the Bold", Minimus P.U. from "Atomic Betty", Zed from the 2003 "Teenage Mutant Ninja Turtles", Misumi Tsurugi from "Naruto", Breezy from "Jimmy Two-Shoes", Coldfront from Disney-Pixar's "The Good Dinosaur", and Lazlo from "Camp Lazlo".
Voices
Trivia
Ad blocker interference detected!
Wikia is a free-to-use site that makes money from advertising. We have a modified experience for viewers using ad blockers

Wikia is not accessible if you've made further modifications. Remove the custom ad blocker rule(s) and the page will load as expected.